Optimizing for Pinterest at @SMX East was originally published on BruceClay.com, home of expert search engine optimization tips.
Intel's Director of SEO Laura Mitchell and Community Manager Scott Jaworski (@scott_jaworski) dug deep into Pinterest to see what search best practices they could apply to Pinterest. After all, Pinterest considers itself a search engine rather than a social platform, so it made sense to think that what would work on Google might hold value on Pinterest. They're sharing their findings in the SMX East session "Why Intel Investments in SEO Paid Dividends on Pinterest."
Intel wanted to be on Pinterest for a simple but powerful reason: "Our users are on Pinterest, so we had to be there," said Mitchell.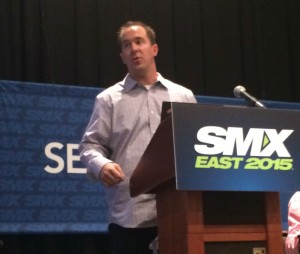 Fast Facts About Pinterest
Pinterest has 100 million active users, as of September 2015.
71% of users are women. However, 1/3 of signups are now male.
27% of users access Pinterest daily.
93% of pinners shopped online in the past 6 months, and are ten percent more likely to make purchases online (Nielsen)
What factors drive visibility on Pinterest?
Pinners
Pins
Amount and Types of Boards
Authority domains
Intel's Pinterest Study
Intel looked at the top 25 pins per keyword for more than 45,000 keywords submitted to Pinterest. The study included:
110,000+ pins
19,000+ pinners
9,000+ domains
4 million+ repins
800,000 likes
15k+ comments
The Findings
Do pins from pinners with more pins or more followers perform better? YES. (Following back other pinners didn't matter. Pinning content from many domains didn't matter. Multiple boards didn't matter.)
Intel found that 80% of pins ranking in the first row come from pinners with more than 1,400 total pins, and that pinners with first row ranking pins have an average of 229,000 followers (36% higher than pinners with pins in rows 2-4).
Pins in the first row, in fact, have "dramatically high repins, likes and comments than pins inn rows 2-4. They have 87% more repins, 93% more likes and 220% more comments. 50% of first row pins were rich pins.
Lastly, Intel found that the Pinterest algorithm appears to be heavily weighted for boards that include exact match keywords.
Recommendations for Pinterest Based on Intel Study
Use rich pins.
Optimize the source URL.
Avoid pinning duplicate content.
Align boards with Pinterest categories.
Create boards that align with specific events and holidays.
Create inspirational boards where that makes sense.
By taking their own advice, Intel has seen a 48% increase in average monthly engaged views and a 34% in average month views.
Intel's Takeaways
Insights from search drive value well beyond the boundaries of the traditional SERP.
A market org structure that facilitates the sharing of insights across disciplines enables rapid innovation.
Focusing on the user reveals new ways to meet our audience where they are.