Liveblog: Google Now, Microsoft Cortana & the Predictive Search World #SMX was originally published on BruceClay.com, home of expert search engine optimization tips.
Google Now continues to grow and change and it's important for search marketers to keep up. In this SMX session, Cindy Krum covers these changes and what it means for marketers.
Moderator: Danny Sullivan, Founding Editor, Search Engine Land (@dannysullivan)
Cindy Krum, CEO, MobileMoxie (@suzzicks)
Predictive Search
We're going to talk about predictive search and that's an exciting area for search. Danny is jaded and this gets him excited.
Some questions that will be covered in this session include: What is the future of predictive search and where is it going? What are the signals used to predict searches and what do predictive search results look like?
PS is exciting but it's changing quickly.
What is PS and why is it important?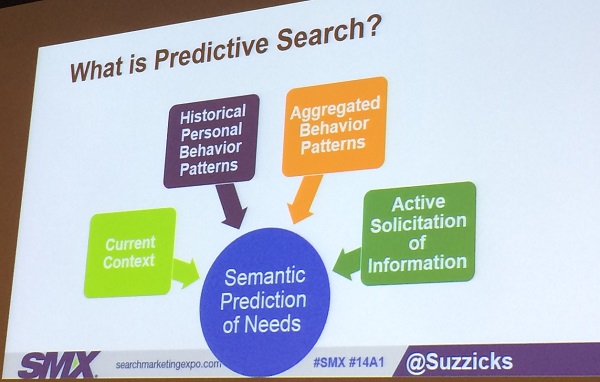 SEs take all the information and give you an answer before you search.
This enables search on connected devices. This is important as technology is evolving and more of our devices are connected. Things like casting options like Chromecast are allowing more things to be web enabled.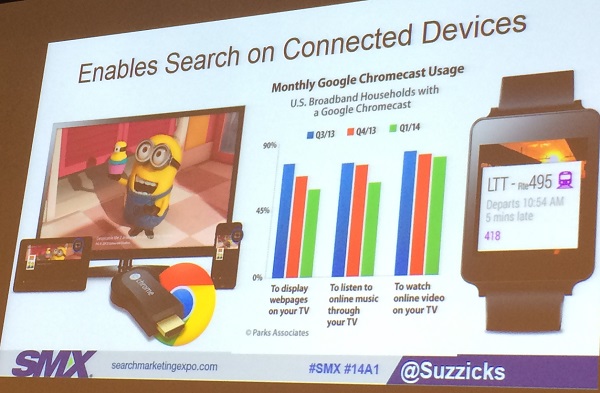 Lot's of things you may want to search but they don't have a keyboard or even a screen.
Wearables are a strong category for growth.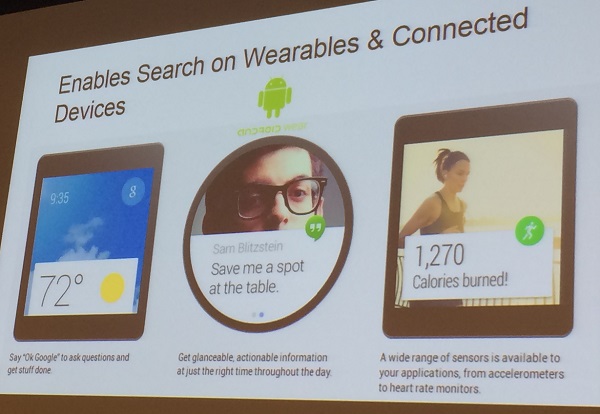 Predictive search is the best answer because it means you're not talking out loud, but voice search is the second option.
The presentation layer (where the info is displayed) is very small.
What is Google Now?
Google Now main characteristics:
-Card formatting: You'll see items formatted in the shape of a card – one screen's worth of information. Cards that show up automatically based on your history.
-Voice search
Google Now is cross-device. We see it on wearables, mobile, desktop and TV.
What signals are used to drive PS results and what do those results look like?
Current contrition:
Where are you?
How fast are you moving?
What day is it?
What time is it?
They look at what you usually do on that day and time in the past to give a prediction response without your asking.
What signals are used to predict searches?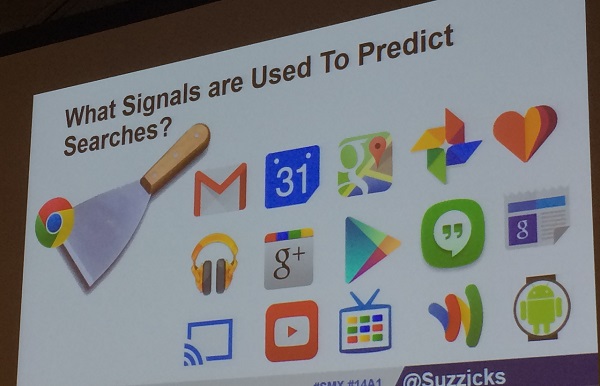 Google aggregates the apps to see a combined "you."
Google Now _ App Notifications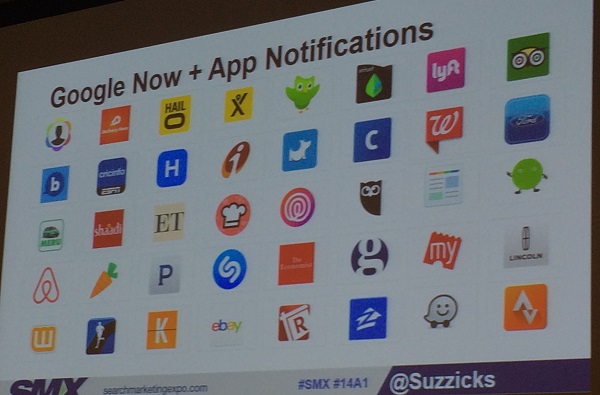 There's an option for showing you a notification in a Google Now result. Here are some examples of what these Google Now cards might look like: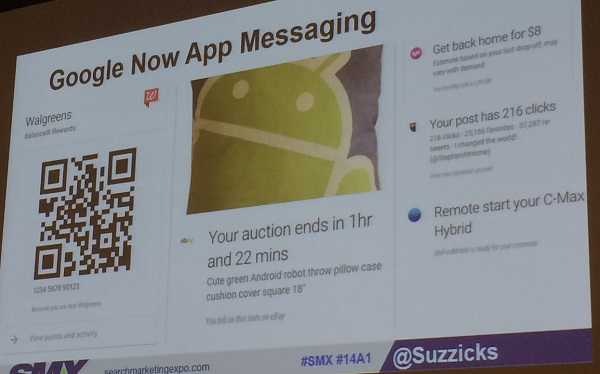 Google Now email integrations:
If emails are marked up for an action behavior, Google can include that info in a Google Now card. It's especially common in travel type notifications. There's a tool in Search Console that can be used to test the markup you're developing to add to your email HTML.
Cross-device data collection: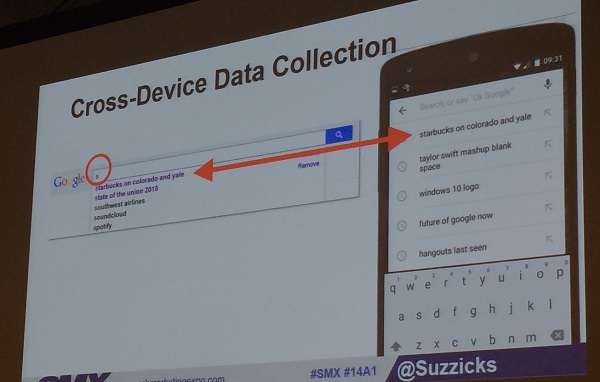 You can see that Google connects a previous search from desktop and brings it up on your phone (even just typing "S" brings a suggested previous search).
You never give permission for Google to connect your mobile and desktop devices. It just does that because it knows you're logging in on both devices. Because desktops/laptops don't usually have GPS devices built in, Google Now will base your location on the location of your phone. If you leave your phone at home and do a Google search from another location, it will get your location data from your phone and think you're in the wrong place.
YouTube, Google Play, these are other apps that Google Now will try to combine data from into your profile.
Those are passive data collection. Google also solicits info from you, for instance: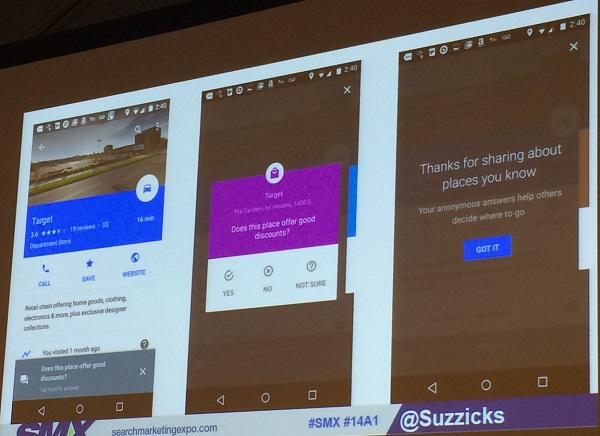 There's also an app called Google Opinion Rewards – you get asked your opinion on different things and are rewarded with points that you can use to buy things. #bigdata
Examples of PS Results
Here are some of the cards you'll see: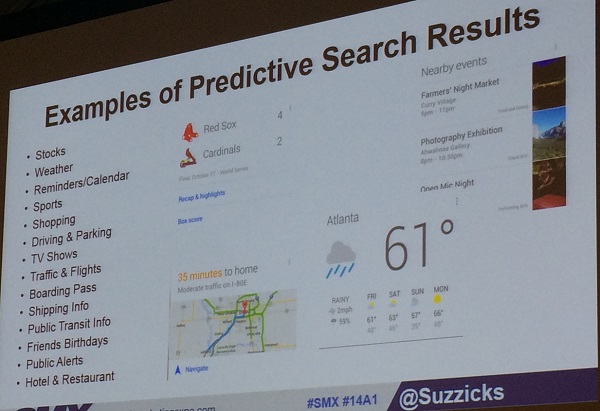 Stocks
Weather
Reminders/calendar
Sports
Shopping
Travel
TV shows
And the list is growing every day
Travel and Transportation
Parking locations
Public transportation delays
Traffic and alternate routes
Flight and train tickets
Meeting reminders based on travel time
Activities
Nearby events
Nearby attractions
Nearby photo spots
It's predicting you'll need to know more things about where you are if you're traveling. It'll also give you weather for where you are and your home town.
Controlling offline devices:
Nest is the thermostat Google runs.
You can use Google Now as your remote control.
When you're setting up your Google Now it solicits info about your entertainment providers.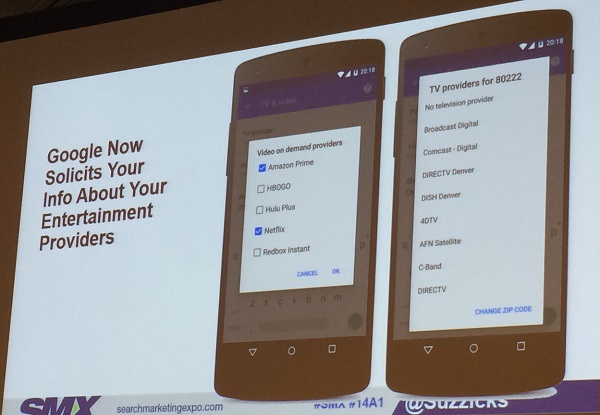 It pulls your ZIP code and all of your providers to make recommendations for you.
Voice Search and TV Audio Search
You can listen to the TV and get more info about the episode.
Real-time TV suggestions and from SERP Reminders: based on what we know you like because you've watched this before, it'll give you suggestions.
Reminders for Live TV and Links to Online Episodes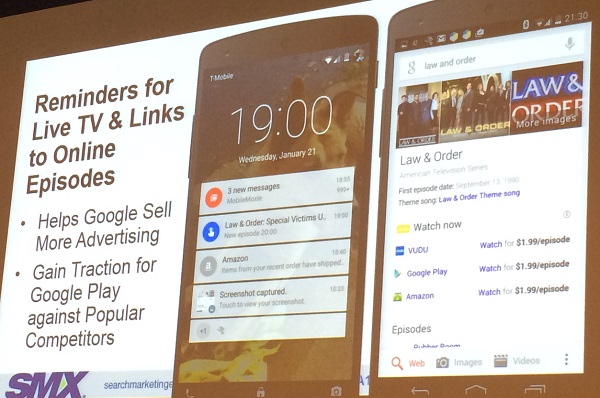 You can tell in the right side image that's a Google Now result because of the menu along the bottom.
Relationships between similar shows derived from Google+ and Google Now.
Today Google Chrome v2 was announced and it has more interactive and gaming options. Because so many media devices don't have a keyboard, using voice search that they're learning from Google Now is going to help Google web enable more things.
Google Now and Android Wear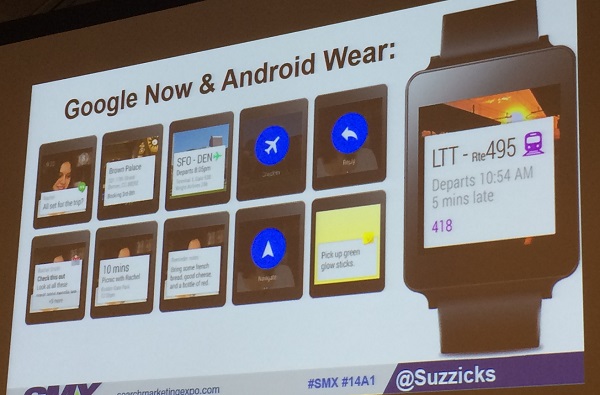 What is Cortana?
The main difference is they have less information about you because Microsoft is not as integrated in people's lives.
It integrates with Windows 10. This might be promising but it hasn't taken off yet.
Because it doesn't have as much information on you, it solicits information about you, like restaurants you like or never want to see.
Google now on Tap = Mobile OS Central Interface
Better and more predictive search results that integrate more seamlessly with your web and app behavior.
Lots of new cards in SERPs
She thinks we'll see a blurring of lines between Chrome searches, voice search, and Google Now. She thinks that Google Now will be the start screen, where Google has you start. Google M (marshmallow) is sticky enough to bring together the app and the web world. The more they're able to marry the app and web world, they have to do less work to index it and get people to it. The better it will be for users and to maintain.
When that happens we'll see deeper inter-app operability and deep integration of apps in search results.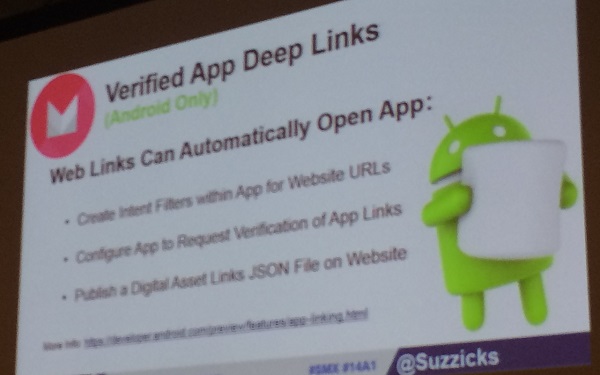 Click a blue link and you don't have to worry about whether its app or web – that's what Google is going for.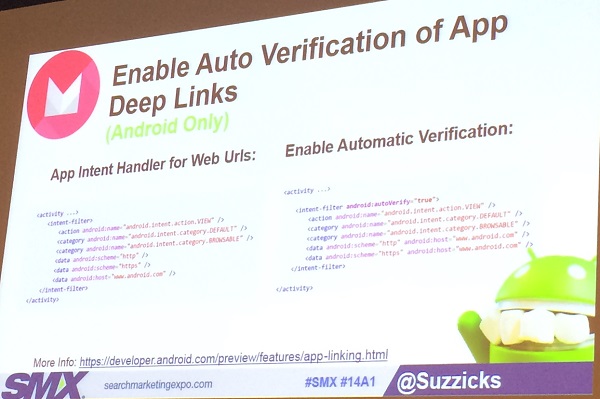 More casting functions, listening functions and music cards. Worldwide, Google Play Music is one of the most installed apps.
Sponsored Google Now Cards: pay to play
In one example, Cindy had been viewing a dress on Target, then she saw a Google Now card of the dress with a price drop.
More use of photo learning like Current Find Visually Similar Products – a way to get in front of people with similar products. Get your product that's similar to a popular product in front of people with a similar photo. If the photo is on a woman, use a woman in your photo, and if a mannequin, use a mannequin.
There are more interactive cards: