Social and Mobile PR Secrets was originally published on BruceClay.com, home of expert search engine optimization tips.
Do you want press for your business? Yes please! Here's how to use social media in traditional and new ways to reach and influence the media. New opportunities to be covered by today's speakers including making sure your content is mobile friendly and targeting the media through paid Facebook promotions.
Moderator: Melanie Mitchell (@melaniemitchell)
Speakers:
Lisa Buyer, President/CEO, The Buyer Group (@lisabuyer)
Marty Weintraub, Founder, aimClear (@aimclear)
Murray Newlands, Founder, Due (@murraynewlands)
Murray Newlands: How to Meet the Press
How to get press? That's the big question for all of us. He's getting emails and messages asking him, as a writer for Forbes, requesting he write about your company. He asks why should he? You have to be amazing or tell a great story. Ask: why am I creating the content? Ask: who are you writing for? Ask: why do you stand out? Ask: what does my audience care about?
Generally, people care because they have a problem that needs to be solved. Go back to the basics. What's the company do, what problem does it solve, who are you solving it for, how can you present the context to the audience and illustrate the solution.
When you answer that question, look at the publications you're targeting and then research that publication to see what is the most popular content there. Fit your story into that format. When they write about you, promote the heck out of it. Writers are trying to get their content to have tons of views and shares. If someone takes the time to write about your company, take that third-party endorsement and share that with your current audience and to grow a new audience. Use Outbrain to promote it. Make it a promoted tweet.
How do you meet press and get started with outreach?
Go to events, especially targeted events, and meet press in person. Find a local media group meet up and go to it. Those press people also probably have social profiles you can find.
Look at who is writing about your competitors and who is doing promoted posts about your competitors. Search for the word "sponsored" and that means that they do sponsored posts, they're open to commercial opportunities.
Your email box is constantly full of spam. Spam is someone you don't know about something you don't care about. If you get to know someone and what they like then your subject line/title can be one line about something they like and care about.
Lisa Buyer: Social/Mobile PR – the Hook-Up
Murray introduced the concept of public relations. There's overlap with social, mobile and visual and opportunity to reach your customers and prospects. It's critical to have this as part of your strategy.
Opportunity of Mobile Bublic Relations
The 2015 trends for journalists using social:
Mobile-friendly content is important to them.
Faster turnaround times for journalists.
Social media is a major influence.
Journalists are looking for original video (people and products).
Small staffs in newsrooms is a pain point so make their jobs are easy as possible.
Mobile devices are the preferred method of reading. Even though you may be crafting something from a laptop or desktop, your reader is probably reading from their mobile device.
78% of Facebook users aces the content from their mobile phones at least 1x a month. Think mobile first! Social advertising is growing to $35.98 by 2017. Journalists are trying to grow their own following – can you share their content? They'll notice you and think to look at you as a source.
Time online is more common on mobile than desktop. Mobile PR strategies for you to implement: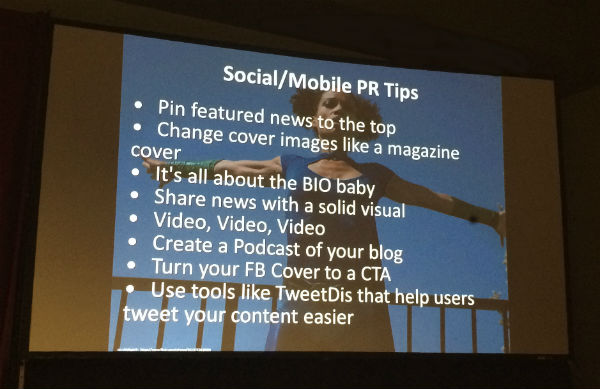 Pin a featured post to the top. The majority of media writers will look at your branded social media to see what's new and happening with your company.
Think of your cover images like magazine covers. Magazines change their cover monthly, not the same every month. Guy Kawasaki said it best in his keynote yesterday – use it as a narrative.
Share all your news with a solid visual. She can't say enough about video, video, video. Marty Weintraub is doing an amazing job with his video news team. aimClear has a video production studio with weekly distribution and on-topic reporting. Treat your brand the same way and tell news on your industry, not your company.
Think of all the screen sizes. Canva is a great way to make sure that all your cover images are optimized, visual and working for you at the highest possible resolution. Mobile users tend to share social media content 2x as much as those on a desktop computer.
How can you optimize social for mobile?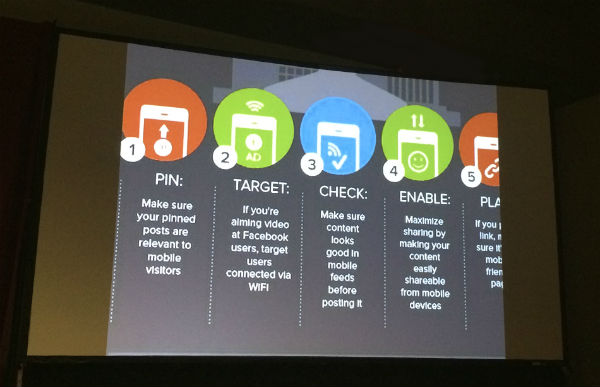 Instagram Video – use Instagram to tell your brand story.
Get organic exposure you're looking for: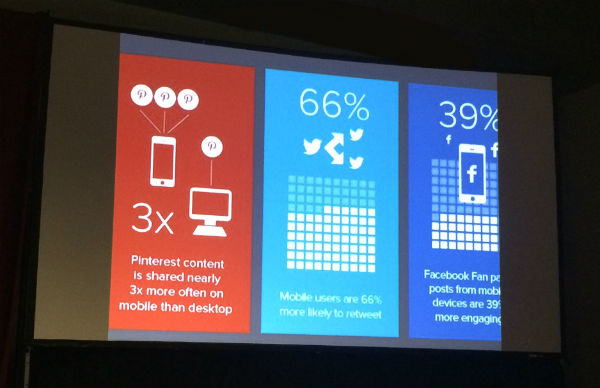 Optimizing mobile PR content: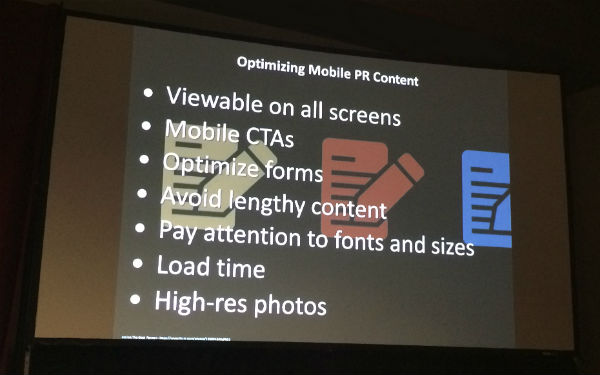 Get to the point very quickly. Look at things like load time and high-res visual quality.
Use the mobile apps that your audience is on. Giving equal weight to everything will cause you to burn out, so focus.
Mobile apps for PR story telling: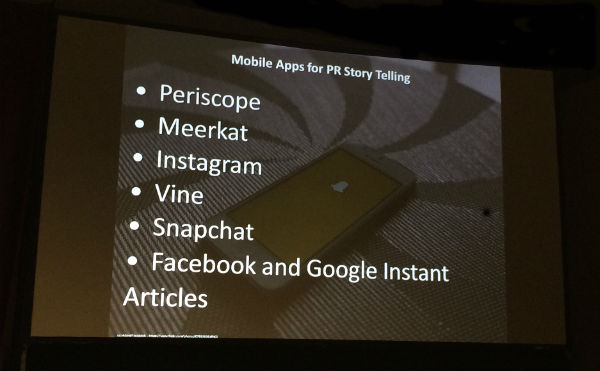 Add Blab.IM to the list. When she submitted her presentation when it was due a month ago, Blab wasn't even around.
Optimize local business for Yelp: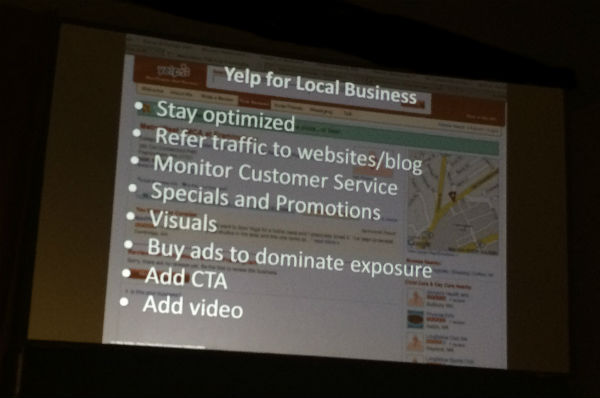 Make sure you're watching your reputation as it evolves on social media.
Mobile PR audit on social media – going through your assets to see if you're optimized. Check out new channels and see if they make sense for your brand. Facebook just launched Mentions which is currently only available for verified celebrities.
For measurement, consider your KPIs: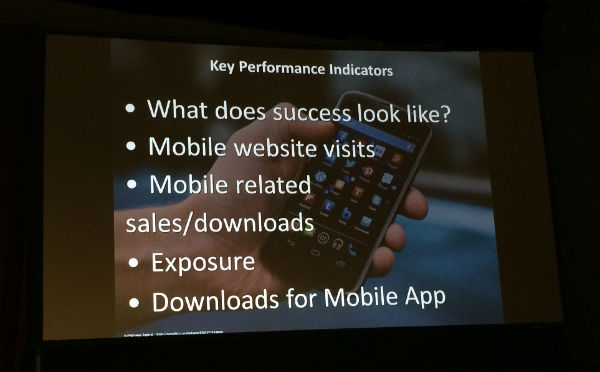 Takeaways: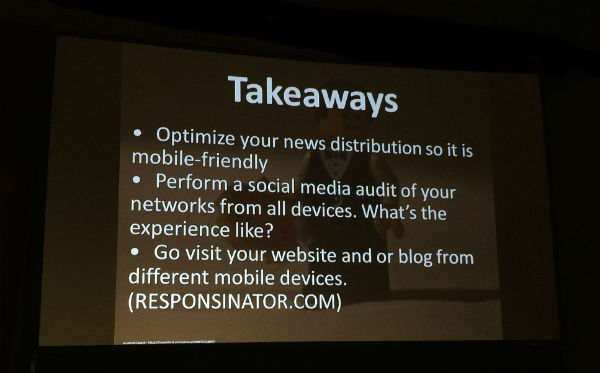 Little tweaks can make a huge difference. Continue to evolve, create benchmarks, monitor and adjust. In three months things may be different so stay on top of the trends.
Marty Weintraub: Today's Rad Facebook Audience Targeting Hacks
This is all new material and he's excited to share it with us. There will be a download of an import into Facebook Power Editor. He's going to talk about targeting media roles and influencers.
"Roots" – a new vernacular he hopes we'll become familiar with by the end of this.
Know what you call branding to media people? Public relations.
This applies to all channels with psychographic targeting. Google, Blue Kai, Twitter and Facebook.
When you're fishing for journalists it has to be more than good, it has to be stunning. Ask yourself does anybody care about this or is it an inside joke?
Targeting Media Influencers
There are a couple ways to approach it (ad all psychographic targeting). Deciding how to slice up humanity requires you just go for it and say "this thing mostly does it for me."
Persona rooting tactic #1: Job titles.
More Demographics > Work > Job Titles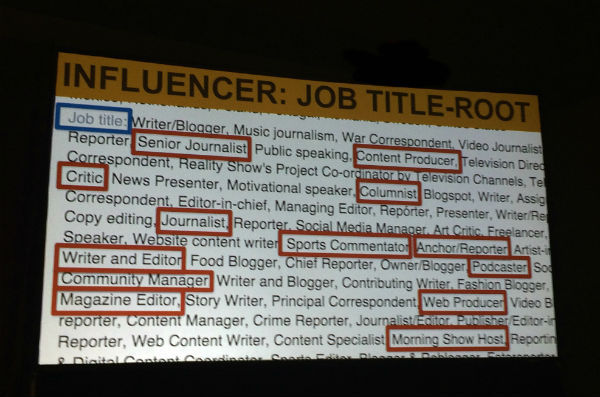 Examples include "journalist," "correspondent," and "tumblr."
Next, segment the job titles bucket (the root) out by interest and income.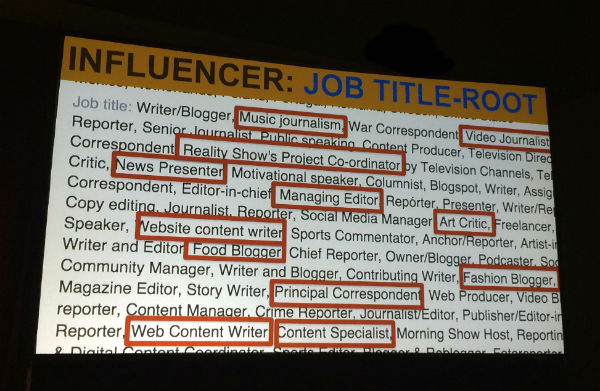 Look for clarifiers in the interest bucket which signals they're a do-er (like "writer").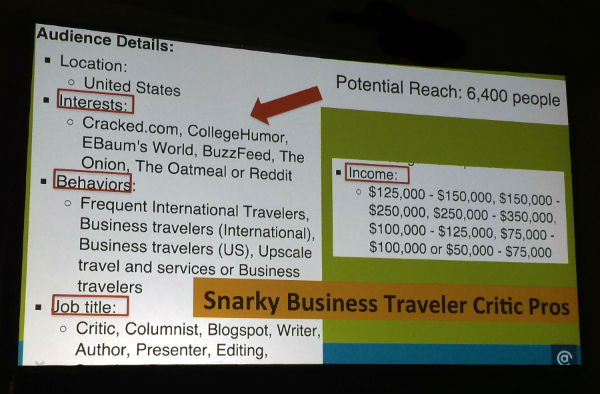 Persona rooting tactic #2: Behavior
He loves rooting things in the behavior bucket because it's intent-based. When you root persona in the behavior bucket, there's often money and stuff they like to do.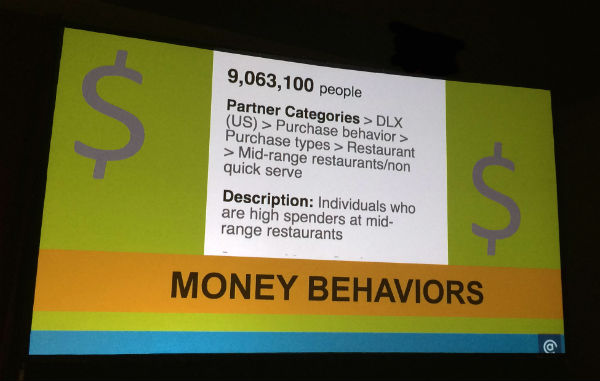 Little Blue Book explains sources, uses and targeting slices excluding Facebook, Google, Twitter.
Persona rooting tactic #3: Bloggers as the interest root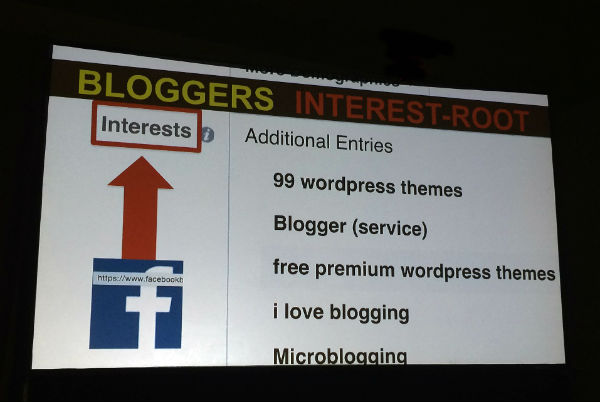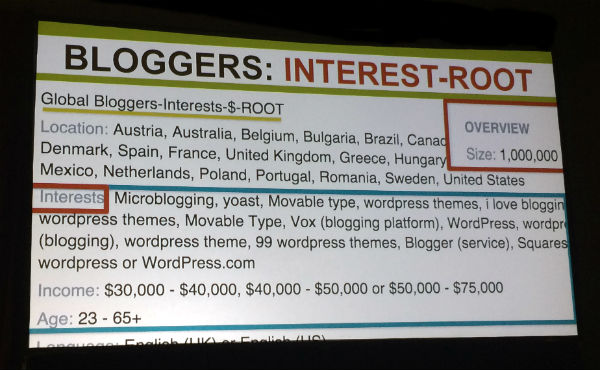 If you take business marketing as the behavior on top of the blogger interest root, you're focusing your target.
Add Industry like "arts, entertainment, sports and media," if that's your target.
You can get "creepy" next. How about start from bloggers as interest and sports and media as industry and then add all the sports teams as employers. Now you've really targeted a group.
You can find the top 50 newspapers in America in the employer bucket.
Here's all the people who blog for the New York Times: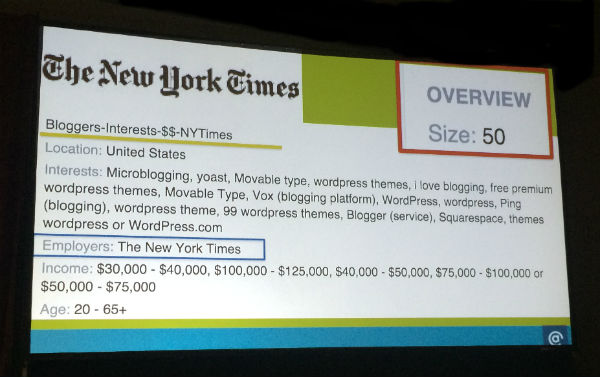 As you drive people into the system, cookie them for retargeting or remarketing. It's your job to keep following them and run search campaigns for them and save them as lists.
Want to subscribe to the Super Secret Psychographic Social Distribution Weekly Tip Sheet? Get one of these pieces of targeting every week. Email Marty at aimclear.com.
Here's the CSV Power Editor download [see slide]
Takeaways: